---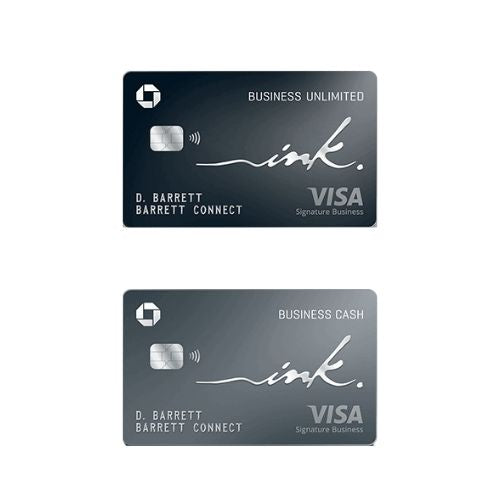 Earn 180,000 Bonus Points With The No Annual Fee Chase Ink Unlimited & Cash Card!
Chase
Regular price
Posted on: More info
Links may earn us commission, advertiser disclosure. We really appreciate your support!
Click
HERE
to be added to the WhatsApp group and be the first to know of price mistakes and FREE stuff
Fill out the application for both cards! If you're approved for both cards, your total bonus points are an insane 180,000 points ($1,800+ cash value)!
Acquire both on the same day with a single credit inquiry. Do not file for the second card until the first one has been approved.

Ink Business Cash® Credit Card: 90,000 bonus miles for spending $6,000 in 3 months. 
Ink Business Unlimited® Credit Card: 90,000 bonus miles for spending $6,000 in 3 months. 
If the first card is approved, you will almost undoubtedly be approved for the second.
Step By Step Guide: How To Apply For A Business Credit Card Without an LLC or C-Corp
Here's how to get the most out of both cards:
Use the Ink Business Cash® Credit Card and receive 5% cash back on purchases of up to $25,000 per year made at office supply retailers, You can Buy Amazon gift cards at office supplies stores & get back 5% on your Amazon purchases Also get 5% back on internet, cable, and phone service.
Use the Ink Business Cash® Credit Card for your annual gas and dining out expenses and earn 2% cash back.
Use the Ink Business Unlimited® Credit Card for all other expenses, or once you've reached the $25,000 threshold in either category, to earn an unlimited 1.5% cash back on everything.
Check your application's status online At Chase Website or give them a call at 1800-453 9719. If your application was denied, you can ask for another review by dialing 1888-609-7805.
The best aspect of Chase Ultimate Rewards is its versatility and value:
Your entire family may convert Ink Preferred and Sapphire Preferred points into miles with only one card. In addition, you can exchange points for travel at a rate of 1.25 cents per point.

You and your family can utilize the Sapphire Reserve to exchange your Chase points for airline miles. Travel redemption is offered at a rate of 1.5 cents per point.


The set value is great, and there's no need to worry about finding available award seats, but you can get a lot more for your points if you transfer them to frequent flyer miles or hotel points.
The fastest way to receive your card is:
Upon approval, you will be able to add your new card to your mobile wallet within the hour. By calling Chase's customer service, you can also request that your physical card be delivered via overnight shipping.
Ink Business Cash® Credit Card
---
You might also like
Amazon
Sale price $16.36
Regular price
$45.00
Amazon
Sale price $6.34
Regular price
$14.99